Under Healthier SG, you can enrol with a Healthier SG clinic and your family clinic will develop a personalised Health Plan with you.
Am I eligible and when can I enrol?
MOH is progressively sending SMS invitations to Singapore Citizens and Permanent Residents aged 60 years and above to enrol with a Healthier SG clinic or polyclinic.
Those aged 40 to 59 years will be invited on a later date.
Eligible residents will progressively receive SMS invites to enrol via HealthHub.
How do I enrol when I am eligible? Where can I enrol?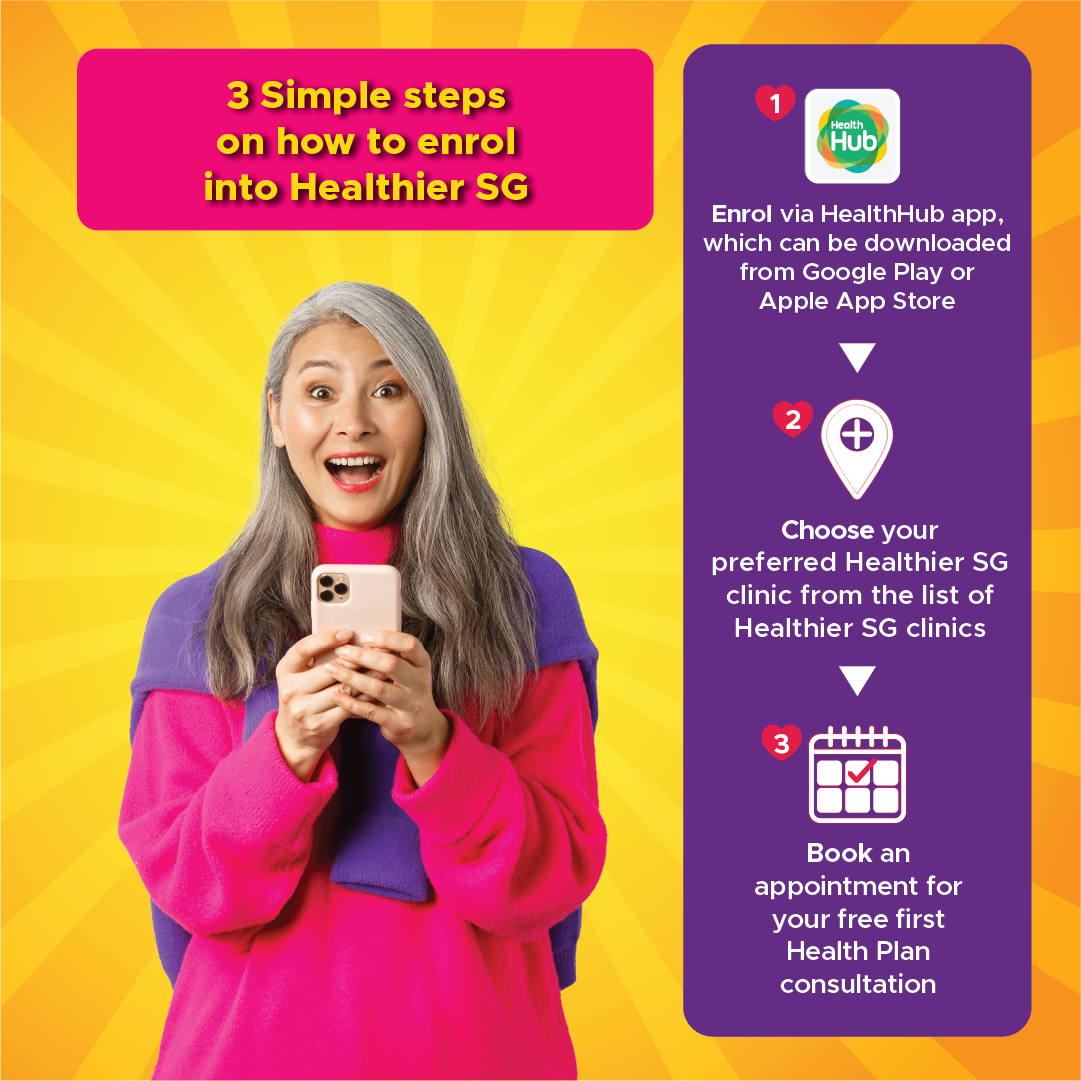 1. Self-enrol
Once you receive an SMS from MOH, you can enrol in Healthier SG in three simple steps:
Enrol via the HealthHub app, which can be downloaded from Google Play or Apple App Store.
Choose your preferred Healthier SG clinic from the list of Healthier SG clinics.
Book an appointment for your free first Health Plan consultation.
For a more detailed step-by-step guide on how to self enrol, click here.
2. Enrol with caregiver's assistance
You can grant access to your caregiver/family member/loved one by adding him/her in HealthHub, so he/she can enrol you in Healthier SG on your behalf using his/her smartphone. You can add your caregiver by following the step-by-step guide on this page.
If you are a caregiver, you can add your care recipient to your HealthHub and help them enrol in Healthier SG by following the steps on this page.
3. Assisted enrolment
Approach the Healthier SG Ambassadors at Enrolment Stations for assistance. To check for an enrolment station near you, visit this page.
Still have questions? Refer to the FAQs on Enrolment.